Making the World a Better Place For All of Us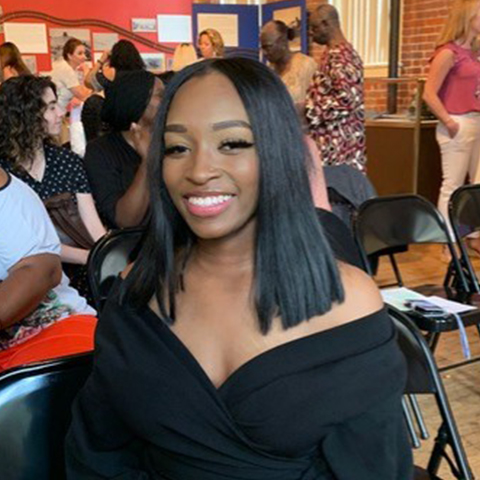 My name is Zierra, and it is an honor to be able to share my incredible experience with being a part of the Getting Ahead class.
Within the last year of my life, I have had many ups and downs. I was going through moments of discouragement, disappointment, uncertainty, and feeling like I was no longer in charge of my life. Lost, fearful, and stressed are just a few words to describe how I felt before partaking in Getting Ahead. At times feeling like my life would never turn around for the better and just wanting to give up, I was in dire need of help.
Read My Full Success Story
Towards the beginning of the ten-week class, I was guarded and just wanted to receive the knowledge I would gain from the course and apply it to my life somehow. But as the weeks went by, I became more vocal, yearning to be an active participant in the class. I began talking to my classmates, opening up and realizing that we all have more in common than I initially thought. I knew that all of us wanted to make a change in our lives that would get us ahead in life. As time passed by, I was able to connect to the others on a more personal level and learned that some of the women and I shared similar experiences.
Getting Ahead has helped me in more ways than one. I have developed a support system, and I've learned life-changing information about money management, time management, and goal setting.
The key topics that resonated with me the most during the class were the research on poverty, the theory of change, and the discussion on the eleven resources needed to get out of poverty. These topics have opened my eyes tremendously and have motivated me to accomplish everything I have set out for myself and my children.
I was reminded how important it is to give back to my community, whether it is volunteering or to use my voice when it comes to persistent issues in our community or even just taking a seat at the decision-making table when I want to see changes in my community. If I can help someone who has been in my situation or are going through a similar experience later on in life as much as RENEW Life Center has helped me, I will be forever grateful.
However, what I appreciated the most about this class is that I had to face the truth and the reality of my current situation. I have had to take some time to analyze where I am and where I want to be. During those times, we call "Aha!" moments in the Getting Ahead class; I was able to self-reflect and learn more about myself, my choices, and how I can become an even better young woman and mother. With the vast amount of information, I have gained through this class, I feel I am more equipped to tackle this thing we call life. It has allowed me to realize that I am more than capable of succeeding in life as long as I strategically utilize the knowledge I have received and apply it. I will be able to start a new cycle for my sons; I will be more conscious of my decisions, whether it is financially or personally. Now I will be able to teach my children some vital life lessons that I have gotten from Getting Ahead.
Getting Ahead has meant much more than I thought it would. I learned that it is okay to ask for help when I need it, and not to be so fearful of feeling judged by others. I learned to hold myself and others accountable and when to say "no," especially if it interferes with my goals of getting ahead and just being a little more open to others.
I believe that with Getting Ahead, I have gotten ahead in life from where I started, and I think there is so much more for me to do to continue to get ahead in many ways in my life. I am more determined, optimistic, and eager to build a stable and meaningful life for my sons and myself.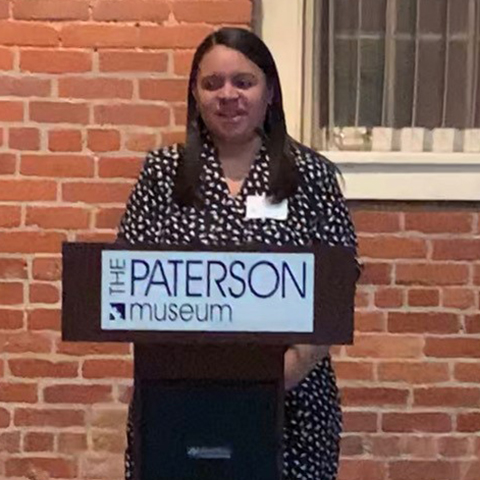 Albernil Abreu
Success Story
My name is Albernil Abreu. I was born in the Dominican Republic, and I have been living in the USA for ten years. In DR, I completed an industrial engineering degree; and at the same time, I completed several computer courses. In the USA, I obtained a bachelor's degree in liberal arts in 2017. Despite having realized my dreams of being a professional, I didn't have an exact and clear direction for my future.
Before I learned about Getting Ahead, my life was sad since I was insecure, stagnant, and completely unmotivated. Anxiety and depression seized me; this blurred my goals. My life was in chaos with an internal struggle trying to understand what was happening to me. I limited myself since I always had excuses for everything. I didn't even have complete goals. All my life was based on believing only in failures without allowing myself to try.
Read My Full Success Story
There were many obstacles that I had to overcome to participate in the Getting Ahead class, but God has everything planned for me. It all started when I was taking counseling at the Lighthouse Pregnancy Resource Center in Hackensack. One day, I had to change my appointment and met with another counselor named Maggie, and I believe that my life began to change at that moment. She noticed that I was in a dark place that I didn't know how to get out of; Maggie immediately recommended I take the Getting Ahead classes at RENEW.
At first, I thought it would be another diploma for my collection. Then, when I started the classes, I felt that it was not for me because the topics they were dealing with were not part of my world.
As classes went by, I realized that I was wrong. I started to fascinate myself with the topics. The workbook we used had very inspiring and powerful content. Each class was full of positive energy where we can all express our feelings. The material was explained in detail; the topics covered in the program were issues that concern us all regardless of social class, race, color, or nationality. I never expected to feel the adrenaline I felt in college and that desire to learn.
Getting Ahead is designed to change lives! The workbook is full of interesting topics to help us get out of poverty. In particular, I was most impacted by the "hidden rules" of the professional world and language discourse patterns. The "hidden rules" are those unspoken habits that people of different social groups have. The language discourse patterns is an aspect of language that refers to the way people carry on a conversation. For example, in some groups, people talk over each other, and this is normal. However, in groups, it is better to wait one or two seconds until one person finishes to start talking. It would be rude to interrupt others. As we can see, these topics are the perfect tools to build a prosperous life.
With everything I have learned, my outlook has begun to change. I see my future clearer since I now know that anything can be achieved with organization and effort. I feel more optimistic and confident to face what comes into my life. I am gradually getting engaged in my goals and creating a plan to achieve them. I know it takes time and dedication to make those changes in my life, but I am sure that with what I have learned in Getting Ahead, the road will be easier.
I thank God for the wonderful experience I had in this class. I thanks the volunteers and my classmates because I learned something new from each one. Without a doubt, Getting ahead marks a before and after in my life. I understood that I only needed to be in the perfect place and with the right people to overcome my fears. I think anyone struggling should take the Getting ahead class; I assure you will have a more open mind and see a better future.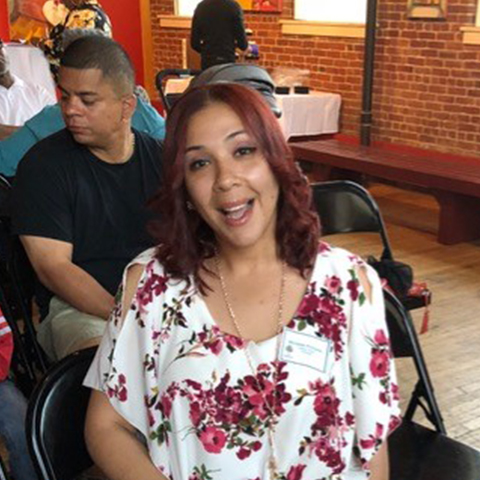 Have you ever wished that you could rewind and go back to where you somehow dropped the ball on life and get a redo? Ok, how about this; have you ever been hit with the same curveball twice, maybe three times?
Well, I have.
Hi, my name is Michelle. I am 32 years old born and raised in Paterson NJ, mother of 3 amazing children and fiancé to a great man. I've felt like a statistic all of my life; I was a teenage mother, not only did I have two daughters before 20, but they had different fathers. As I grew older and into my thirties, that feeling of being a statistic grew with me too. As a result, I was upset with the world, why did these things continue to happen to me? I often felt confused because what kept happening to me, and my family was not happening to everyone else.
Read My Full Success Story
I was proud of myself for having a good-paying Customer Service job. I lived in Paterson and worked in a lab in New York, I had a financed car, and I also lived with my mother. One day my mom said, "Hun, I'm moving out," I was scared, but I was confident that I could manage on my own.
Well, I couldn't! Before I knew it, six years had passed since that conversation with my mom, and in those six years, I've been evicted, fired, found another job, got evicted again, and lived in a shelter, and the list goes on.
I heard about Getting Ahead for the second time this year, two years ago when I first heard about it, I wasn't ready, but this was my time. It found me at one of the darkest times, a time where all I felt towards myself was disappointment, embarrassment, and anger. I was upset with myself because the same thing kept happening repeatedly, and I couldn't understand why? Why me? Why us?
Today I feel prepared! I've learned that what I've experienced is merely the consequences of poor choices and community circumstances not working in my favor. The resources and strategies I've learned here empower me! I've learned to assess myself and my community. Now I know what I'm looking for; I will no longer fall prey to predatory businesses and step into their trap! Now I am more confident in my decision making and planning. Now I am ready to plan for the future.
My future consists of first following my dreams and nurturing my business while helping others live a healthier, happier lifestyle. I will do this while I work and save to reach my long-term goal of having my own retail location!
I want to thank RENEW for offering this life-changing workshop, my children and I have a bright future because of it.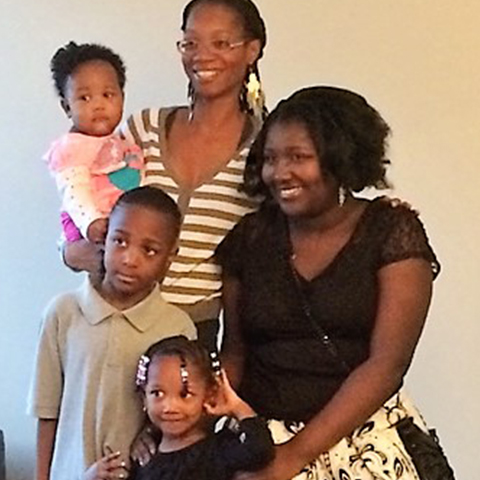 My name is Kayann, and I am the mother of 4 beautiful children. In 2007 my family and I lived in a great apartment, we had good jobs, and the thought of losing it all never crossed our minds until it happened. What followed was six years of a depressing cycle of shelters, hotels, and crashing at other people's homes. And when we did move into our own apartment and started to get settled, the other shoe would drop, and we would be homeless once again. We learned not to get comfortable, no pictures on the walls, no personal touches, and not even too much furniture because it would end up left behind. In 2012 while staying in a shelter again, a program for chronically homeless families was brought to my attention.
Read My Full Success Story
This program would help us get into a place and provide the support to help us maintain it. In 2013 we moved into our apartment, but the story didn't end there. I found out about RENEW and Getting Ahead from Cindy at Lighthouse and decided to give it a try. I never imagined it would be as life-changing as it turned out to be. After the first few classes, I knew I was meant to be there. Every time we met, I gained not only knowledge but also the confidence that came with knowing. And then I realized that after almost three years in my own apartment, I still hadn't made it ours. No pictures on the walls or personal touches, I was still living like we were homeless even though we now had a home.
 Now that I have completed Getting Ahead, I have the confidence, skills, tools, and knowledge to maintain a stable home and to one day own a home. Even more exciting is that I can pass on all I have learned to my children so they will have a leg up starting off their lives. I am genuinely grateful to all who have supported Getting Ahead. You have made a tremendous difference in my life. I Thank God for working things out on my behalf even when I thought he had left me alone.
Your Donations Make a HUGE Impact